As designers, it's part of our jobs to elevate the home and create inspired interiors that are just a little richer, more interesting, or unique. We are always looking for ways to introduce architectural details and pair them with interesting patterns on textiles or detailing & carvings on the furniture or accent objects themselves. Delve into the design details with Joanna Shirin Design Studios:
Design Details:
Creating Layers with Contrast and Texture
In this bedroom, for example, we brought a bit of nature inside. We contrasted the custom made linen blanket with naturalistic hand-embroidered floral vines in wheat color with wooden frames on both the bed( Mindi Wood) and dressers. The contrast in hard woods, leather covered pickled oak chest and softer, delicate bedding with exotic prints gives the room an overall layered and textured look and feel.
Perpetuating a Theme
This theme continued with the installed reclaimed oak flooring and the 18th century antique wardrobe in the hallway of the home. Additionally, the subtle, monochromatic patterns on the Persian runners compliment the intricate pattern carved into the armoire. Simple cylindrical clear glass sconces compliment and add subtle boldness. These elements work in service of the areas of high contrast: namely the exposed, wooden banister which pops against it's white surrounding.
If you like what you're reading here, be sure to subscribe!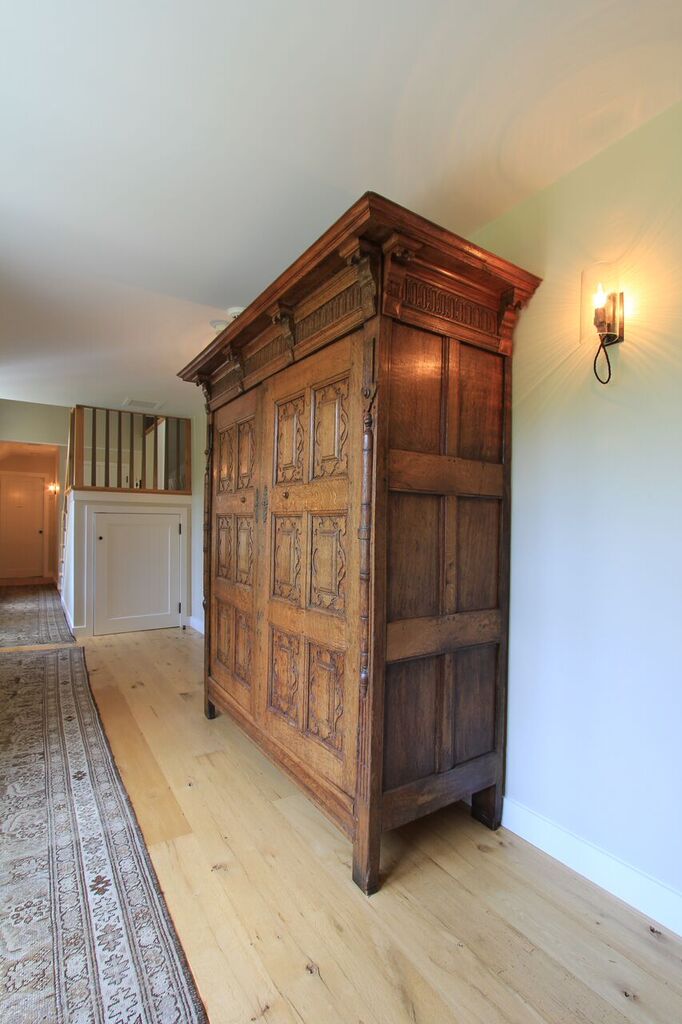 Focal Points: Making Art Out of the Ordinary
In the common  and entertainment areas of the home, like the family room and the kitchen, paying particular attention to design details can make a space a lot more inviting! And since these rooms tend to be larger, we have fun customizing all sorts of details for our clients. Fireplaces, for example, can be a great (and often overlooked) area of expression in the modern home. A custom carved marble mantel, like the one below, while simple, can add lines to a space, making it more shapely and ultimately becoming an artful focal point.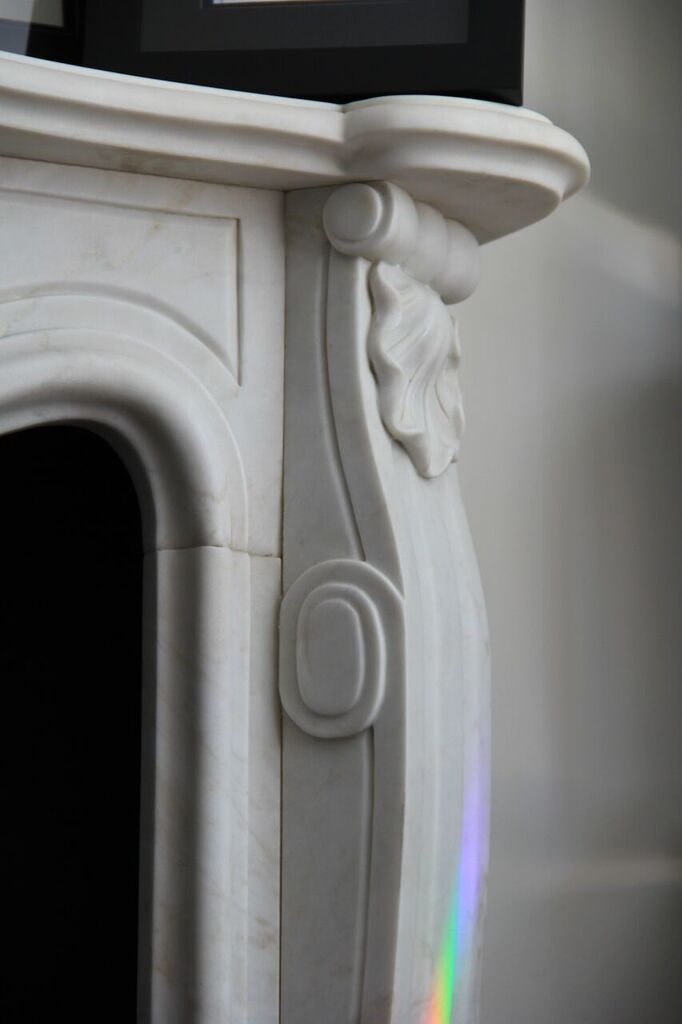 And with the fireplace mantel, pictured below,  a custom laser cut pattern  was designed specifically for the project. As we say, its all in the design details!
Inviting Communal Spaces
Adding a bouquet can often be an afterthought that has the power to truly transform a space. Accessorizing with flowers are another excellent and easy way to make a space more special.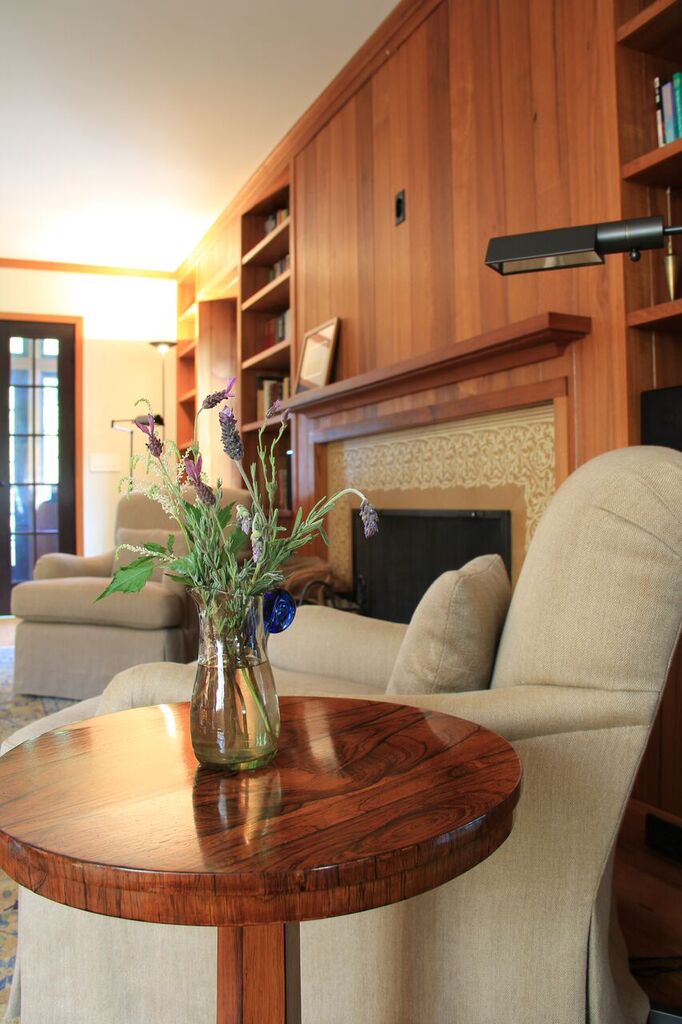 Textiles & Custom Upholstery
Custom upholstery is a great way to create individuality in a room. On the Louis XV chair pictured below, we used teal color silk velvet, soft textiles which pop against the intricate, dark wooden frame. Additionally, we added a double color gimp that further emphasized the lines and added a finishing touch.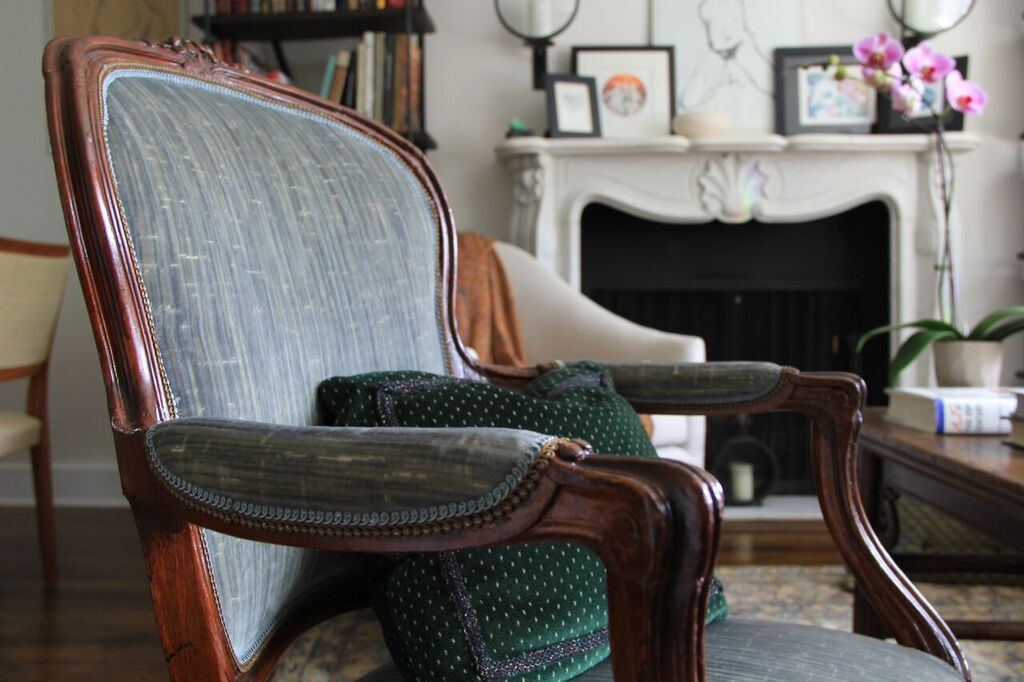 We love to accessorize and offset a neutral sofas with patterned throw pillows. We dressed up the mink- colored chenille sofa, pictured below, with patterned cut velvet and printed linen pillows. Changing these up seasonally is a great way to bring an entirely different feel and look to a room, without having to redesign the entire space!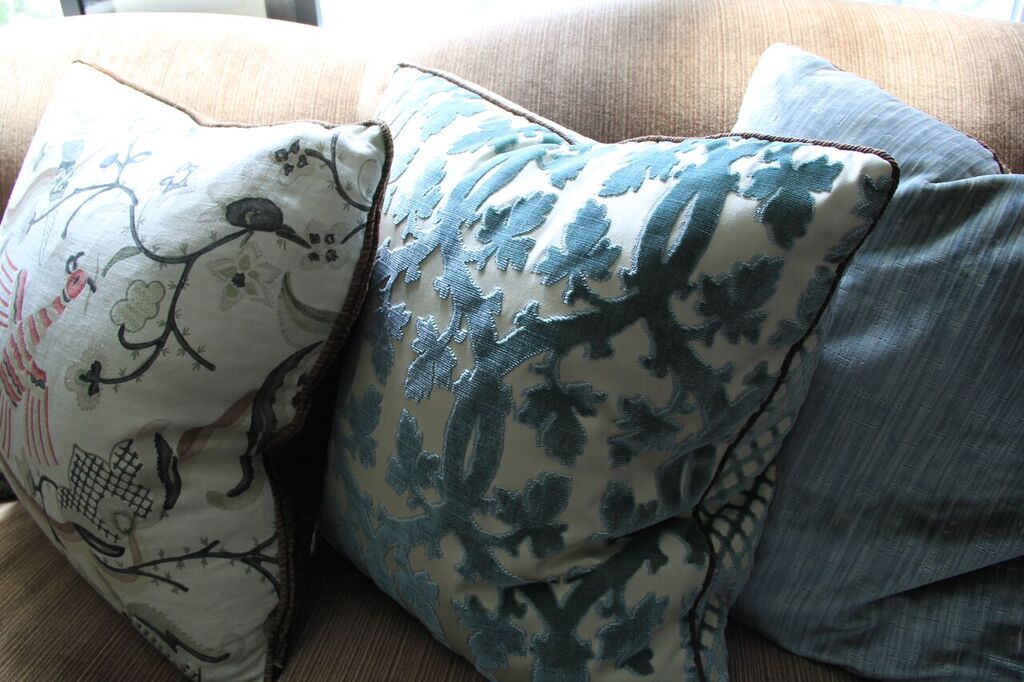 Repurposing the Old
For one particular project, this wonderful antique Chinese bench, pictured below, got a second life as a coffee table, the perfect home for this client's coffee table books! Using a whimsical floral pattern Tabriz rug, we were able to compliment the shapes carved into the table. When mixing patterns and shapes, it creates a language in the room. It generates a conversation between the pieces in the room, which tells a story about its inhabitants: Where they've been and how they live.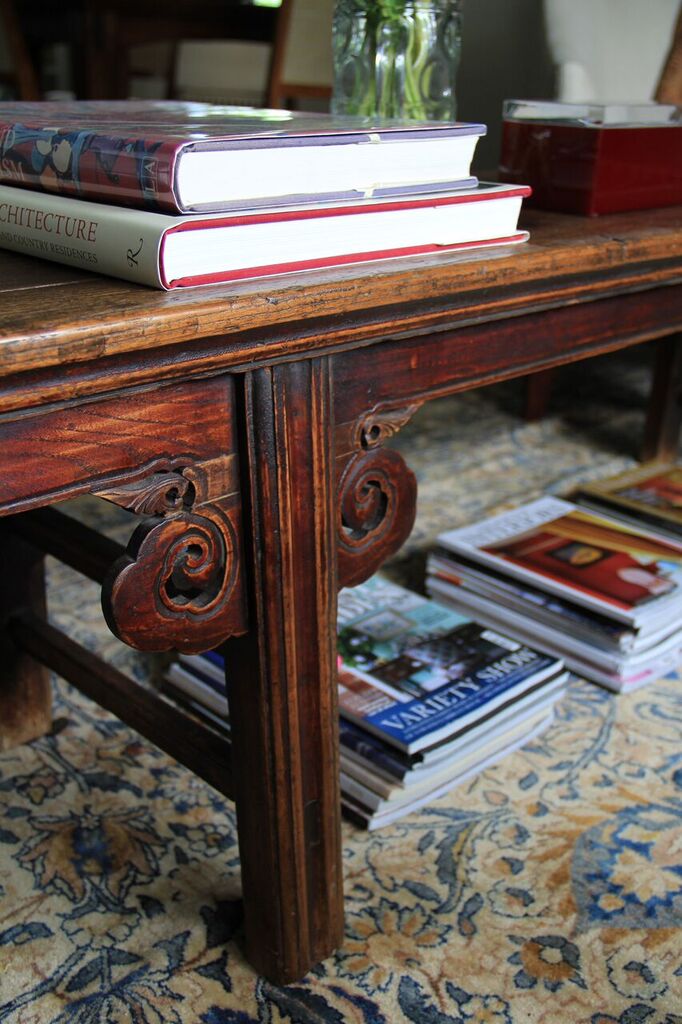 These are just a few of our favorite recent examples, and as you pour through the images in our design portfolio, or read about our design process, you'll find lots of attention is paid to details like pattern and texture and architectural lines. For more design inspiration like this, give us a follow on Instagram and Pinterest!