Bathrooms are often the smallest rooms in the home, but they require as much attention to detail as even the largest of great rooms, bedrooms, studies and kitchens.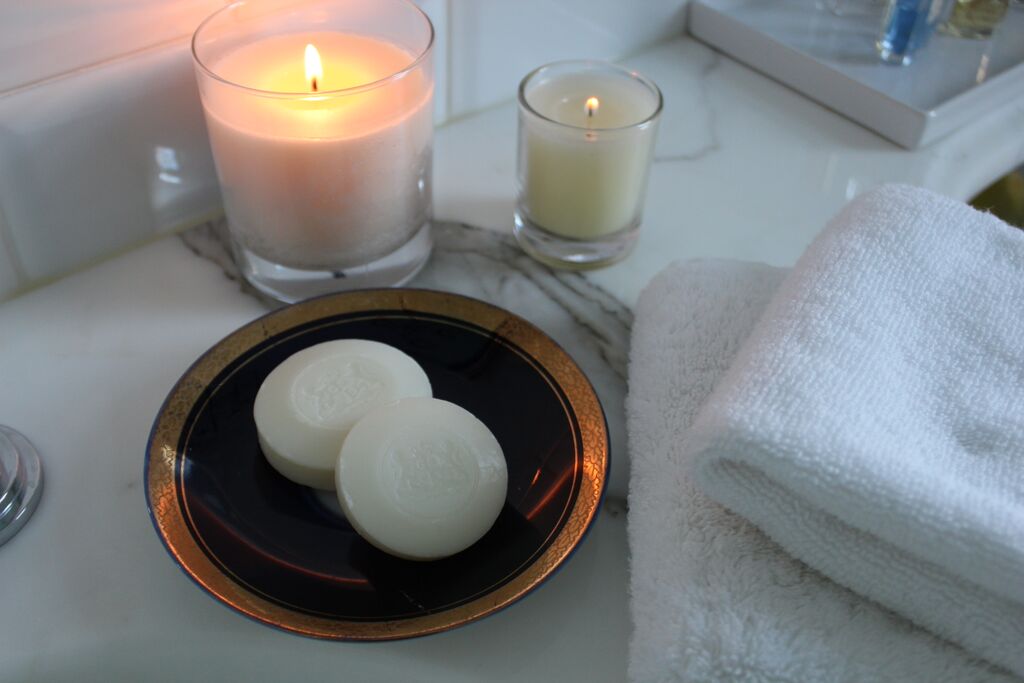 Designing A Bathroom…
There are the larger pieces that everyone thinks about, like the tile and cabinets. The white glaze terracotta tile in this retro bathroom (inspired by early 20th Century European baths), is by Porcelanosa, and the accent trim with black detail was a unique vintage find on one of Joanna's many shopping excursions….Then, of course, there are less glamorous elements equally as important to the style of the room: so let's explore the top five important bathroom design details often neglected in DIY or amateur design projects: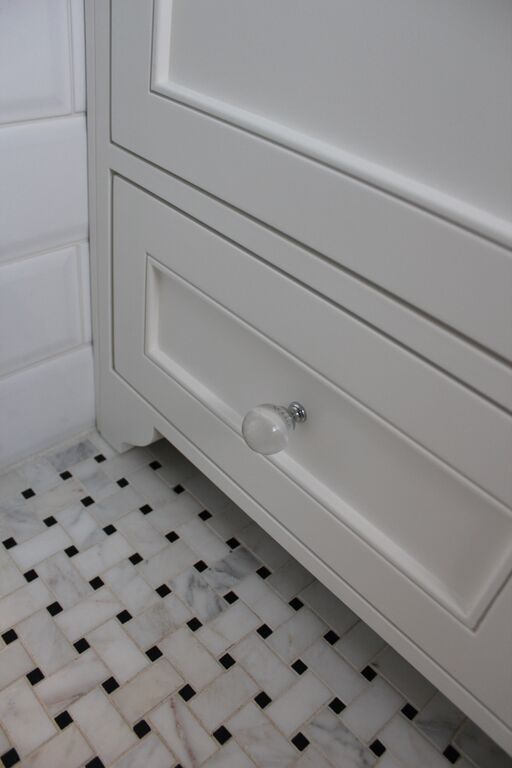 ONE: Lighting & Functionality…
Strategically placed electrical outlets, approved for wet locations, are obviously important for safety and they still need to be comfortably accessible. As an added luxury, we installed heated mosaic basket-weave marble floors– a thoughtful feature, especially during the winter months! In any space, adding candles not only accessorizes the space and creates an intimate, romantic ambiance, but it also doubles as a form of relaxing mood lighting.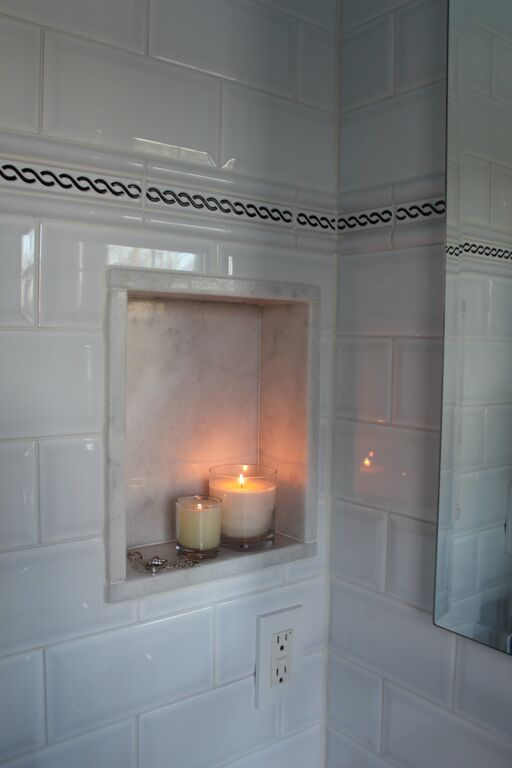 TWO: Built-In Storage…
Important in small spaces, especially a bath, built-in storage is also a great way to add value to a room. In this particular retro-chic bathroom, we opt'd for marble niches around the room with a grey marble running throughout to compliment the JADO faucet and other hardware. The large built-in frameless Robern medicine cabinet doubles as a mirror and provides additional storage.
THREE: Linens…
Once everything is built and the structure for a hotel-status bathroom is there, we begin accessorizing the space. Nothing takes a residential bathroom to the next level better than five-star hotel-grade towels. The best way to maintain a clean look in the bath is with soft, powdery white or ivory towels. This bathroom's towels are from Yves Delorme, a company that prioritizes style, comfort, and functionality all the same.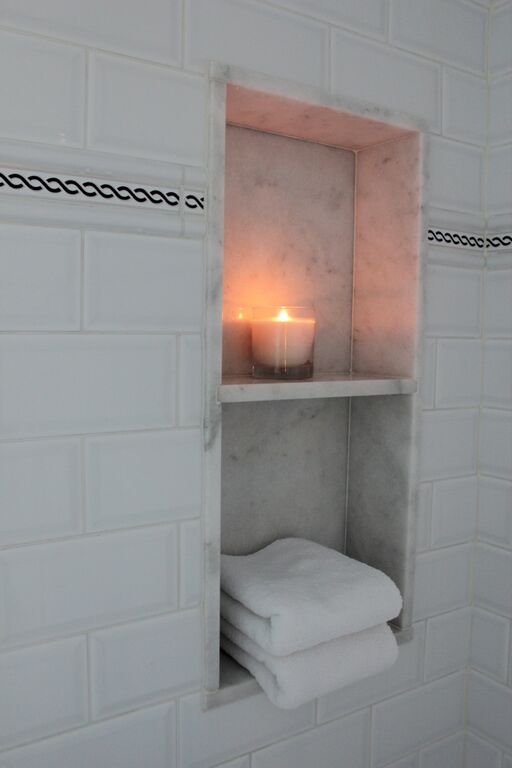 FOUR: Accessories & Personalization…
Bathrooms and kitchens are rooms in which we spend a lot of time and we understand that a house is not truly a home until it is lived in, which is why we work closely with clients to accessorize bathrooms to their needs. For this particular bathroom, the client needed some display and storage space for her perfume collection. We worked with her to incorporate the decorative bottles into the design and flow of the space.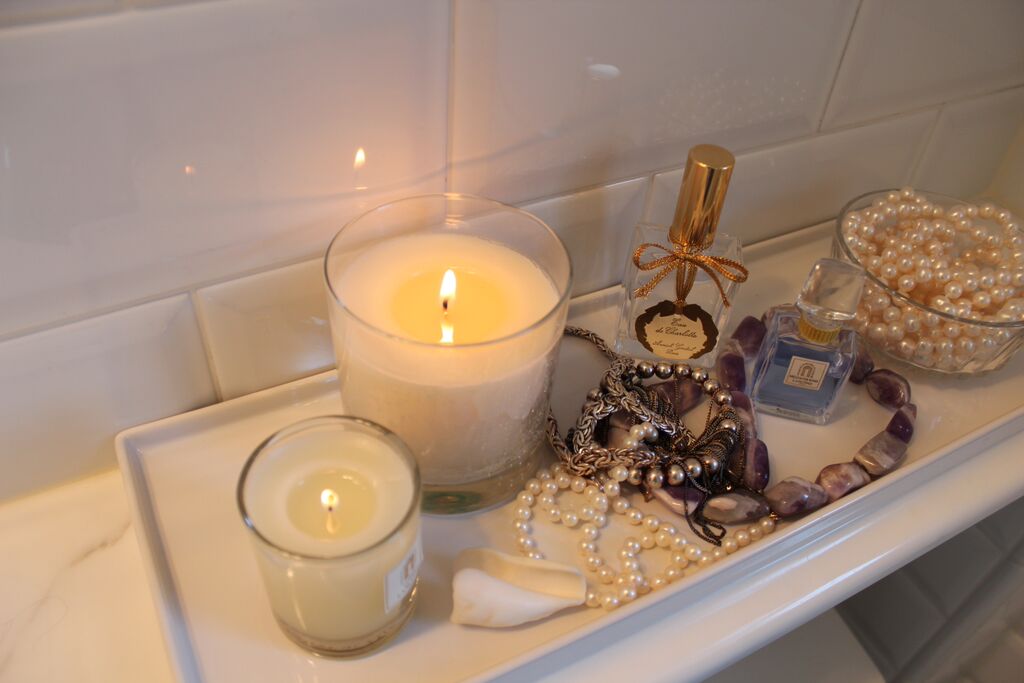 FIVE: Hardware….
Hardware is a big one! It's not necessarily a neglected detail, but it is difficult to find a Design Center with a good hardware selection the way they have textiles, furniture, and artwork. That's why it's beneficial to have a few vendors on hand who love working exclusively with luxury designers.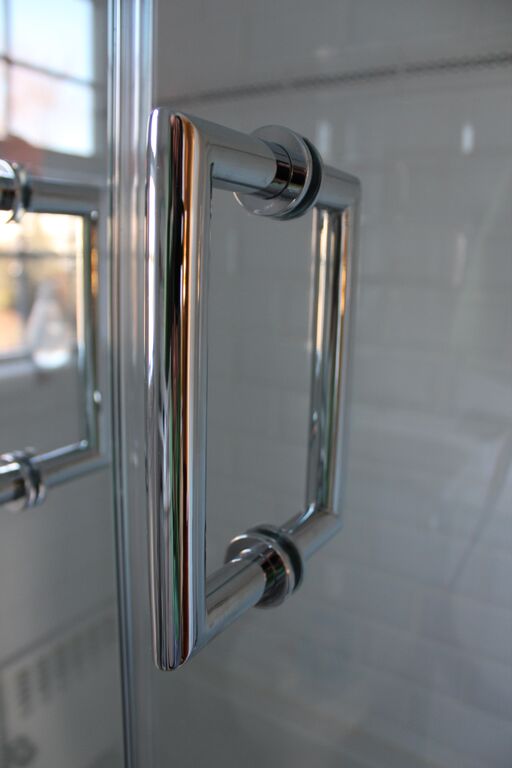 If you're a designer, let us know what other details you find most important in bathroom design!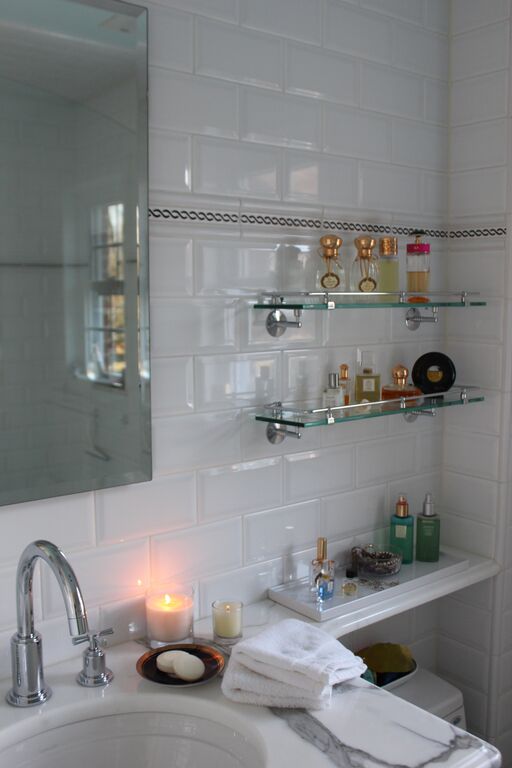 For more design tips and inspiration you can follow Joanna Shirin on Instagram, Twitter, Pinterest, Facebook, and Houzz!
Subscribe for Design Inspiration
Sign up for design tips and inspiration from one of NYC's top interior designers...