Bathroom Vanities on a Budget

Bathroom vanities serve an important function: they anchor the intimate space they inhabit. They're common and practical, but they can also be intricate and add a certain charm and warmth to an otherwise cold, hard room. That's why they are among our favorite pieces to design custom. At Joanna Shirin Design Studios, one reason clients come to us is because they want something one-of-a-kind, something they can't get anywhere else. With that said, custom takes time and it comes at a price. For the client who doesn't have as much time to spend on a design and renovation, nor the budget, there is still good news! We've found some gorgeous pre-made bathroom vanities that won't break the bank and will still elevate your space to spa-like enviability:
Contemporary Counter Tops
These first few bathroom vanities epitomize transitional and contemporary style. They're perhaps the most functional of the list; maximizing storage space, and finished with attractive hardware.

If you like what you're reading here, be sure to subscribe!
For the Lover of Clean Modern Lines
Maybe something urban and glamorous is more your style. We found some wonderful selections for a bachelor pad with city-scape views:
Bathroom Vanities Perfect for Your Solo Space:
We design for many homes in New York City, where the square footage may be smaller, so making these cozy spaces feel like home is always a priority. These vanities are both pre-made and have the added benefit of coming in smaller sizes for smaller spaces. Each of the vanities pictured below can be found at Rejuvination.com
If you like what you're reading here, be sure to subscribe!
Custom or not, we love a well-designed bathroom vanity, and it's hard to pass up such accessible selections like those that made our Top 10! Want more tips on designing your bathroom, check out our post: Top Five: Bathroom Design Details And stay tuned for Part 2: Next week we're going to get a bit more detailed. We'll be sharing out Top 6 Tips for Choosing a Bathroom Vanity.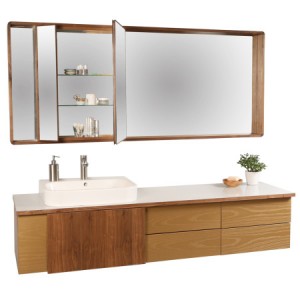 Connect with us on social media & let us know which vanities are your favorites! For more design inspiration, be sure to follow more of Joanna Shirin's Picks of the Week on Pinterest!