In part 1 of Decorative Textiles, I discussed the monochromatic makeover I gave to a Greenwich family home. When it came to the children's rooms, I got to have a little more fun with the colors and layout. In part 2, I'll discuss the textiles in some of my favorite rooms in the house:

Children's rooms can be such fun to design and it's always a challenge striking the right balance between timeless design and kid's design — it can seem like an oxymoron. But creating a space that children can play in and grow up in is essential to the heart of the family home. In this girls' room I used off white Belgian linens, a luxurious theme that carried throughout the home. Except in this room, I expanded the palette and played with more color and textures. Layering multiple floral prints that can be dressed up to give the room a more grown up, light and elegant feel as the girls get older. The pickled oak frames along with herringbone weave of the linen create a monochromatic headboard along with off white walls, providing a neutral canvas for the room and are starkly contrasted by the berry red accents throughout the room. The custom made embroidered bolster, velvet and silk tapes on the face of the pillows, and cotton velvet cording from Samuel & Sons compliment the floral prints and really make them stand out.

In the boy's room, cohesion and continuity were a priority. In this room I used Romo fabrics to create custom bedding and window treatments, and emphasize texture in the room. The vertical stripes in brown, orange, and avocado green are whimsical and boyish, but like the girls' room, the goal was to create a space that will grow with the children– Rather than opt for an on-the-nose theme for the room, we let the color and print be the thematic through line. In addition to designing for aesthetic and function, both the fabrics and paints used in the children's rooms are optimized for the health and safety of the children.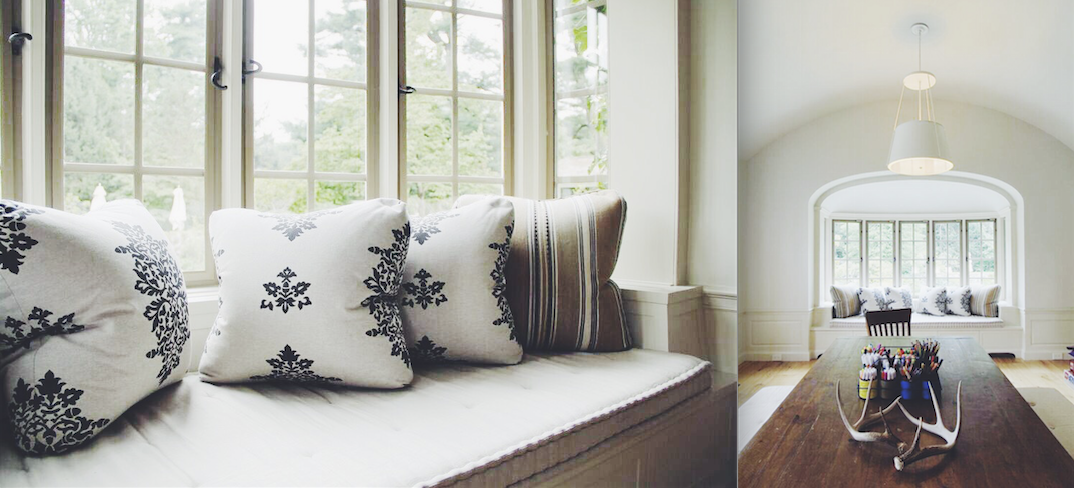 The children's playroom needed to be maximized for play-space. We opened up the room by going back to the monochromatic theme that runs throughout the common spaces in the rest of the house. By doing so, we create an environment that the parents want to play in as much as the kids! I believe it is important to introduce art, textiles, and attention to detail at an early age, a sophistication that children will carry with them as they grow up.
In Decorative Textiles: Part III, I'll discuss choosing textiles for the master bedroom, a space that should always be intimate and relaxing. For more Joanna Shirin updates, follow us on Instagram and like us on Facebook. You can also visit Joanna Shirin Design Studios on Houzz!